14 ינו

Carpet cleaning – Upholstery cleaning services company in Israel
Carpet cleaning – Upholstery cleaning services company in Israel
The Clean and Maintenance Company in Israel
Established in 2012 by Eyal Shoshani. The company offers advanced carpet, upholstery, furniture & mattresses cleaning services.
carpet cleaning israel – sofa cleaning israel – upholstery cleaning israel
The company specializes in carpet and upholstery cleaning and provides its customers with the best solutions. Thanks to the professional team, the company manages to serve its loyal customer base and provide a clean, fast and efficient service tailored to every need and every area of ​​the country.
A little about Shoshi Eyal
During his life, Eyal acquired complementary management tools and applied them to senior positions in the global industry. Eyal has extensive experience in managing and executing large-scale projects, among others: the establishment of Toywatch's new branch system and McDonald's branch operations (managed about 200 people over a decade).
After falling in love with the cleaning and maintenance industry, Eyal decided to practice and traveled to the United States to receive extensive training and work in the successful and veteran family business. Eyal is enrolled in comprehensive studies on these fields and under him certificates indicating his training in the textile, upholstery and various types of fabrics.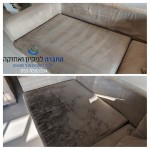 What kind of services we provide?
Carpets – carpet cleaning and restoration.
Upholstery – cleaning car upholstery of all kinds.
Furniture – restoration of furniture and special treatments that reject stains and liquids
Mattresses – special cleaning for mattresses.
Floors – cleaning and polishing tile floors.
The company's cleaning services are designed for the business and private sectors. We provide services to hotels, offices and businesses with carpeting, office furniture including sofas, office chairs, conference rooms and more.
Eyal: 053-9350204
Email: [email protected]
We also provide private sector services, whether it is for apartments and homes of families with small children who are susceptible to dust, houses with unpleasant odors and people who want a thorough cleaning of carpets, mattresses, furniture and second-hand upholstery that they would like to use at home.
carpet cleaning israel – sofa cleaning israel – upholstery cleaning israel